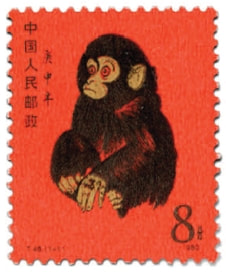 One of the most talked about stamps these days is the 1980 Chinese Monkey stamp which had a face value of 8 Fen. The stamps are now highly prized and a sheet of 80 was recently (December 2016) sold for £141,000 - almost £2,000 each.
What is interesting about this stamp is that it is not particularly rare. Around five million were printed. But it was very popular - not least because red is a lucky colour to the Chinese and the monkey is a lucky animal. It was also designed by Huang Yongu, who was quite a famous artist. When the stamp was issued there were huge queues to buy it.
The high price is a testimony to the strength of stamp collecting in China. When it was initially produced, European dealers were only charging around 20p for a mint stamp. But because stamp collecting is so popular and the Chinese have so much money, the prices have rocketed.
It's something to look out for - especially if you are sorting through kiloware or old albums. Incidentally, be careful when you buy these. The high prices mean that there are plenty of forgeries being sold on ebay - some good, some appalling - and it's easy to get caught out.
See also -
The famous seahorse stamps
Great stamps of the world