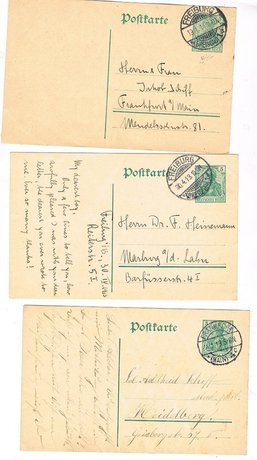 Here's an interesting story that spans over 100 years and goes from Germany to North London. It also explains part of the charm of postal history.

A few weeks ago i went down to my local auction house and paid £31 for a carton, which was primarily full of old letters. I bought it because there were some interesting German covers - dating from between 1911 and 1946.

One batch of covers seemed to be a correspondence between Adelheid Schiff and Dr Fritz Heinemann. The correspondence was on letter cards, so there was nothing very smutty in it. There was also some military Feldpost covers, which indicated that Dr Heinemann had served in the Hoher Kavalier Fort on the border with Poland.

I looked up the two characters on google. I realised that they were probably Jewish, because one of them was briefly staying with a family Epstein in West Hampstead.

Anyway, I quickly learnt that Adelheid and Fritz had got married. They had left Germany after Hitler came to power in 1933. He became a Philosophy Professor at Oxford. And they had children. I also found out that the Heinemann family - particularly Fritz's grandfather Marcus - had been very important in the town of Luneburg about 50 miles from Hamburg.


On looking at the website of the local Luneburg museum, I found out that Luneburg kept an archive of the Heinemann family. And that - only a couple of years ago - there had been a reunion in luneburg. I emailed the museum, offering to sell my collection of cards and covers for £60. Within twelve hours I had a reply from Mark Heineman, who happens to be the grandson of Fritz and Adelheid. He was delighted to buy the covers and cards.


He lives in North London, about eight miles from my house, so I met him and his wife at a hotel near where I live. It was lovely to meet them and to see pictures of Fritz and Adelheid. And I realise that I'm going to have to visit Luneburg, because it really is a very beautiful town.