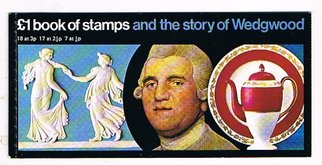 Last week a friend of mine phoned me because he was getting rid of his father's stamp collection. He asked me if I would like it. So I went over to Crystal Palace in South London to pick it up.

Most of the items in the collection were of no real value. Lots of tatty first day covers and pre-decimal commemoratives. But there was one thing that grabbed my attention. The £1 Prestige booklet with the history of Wedgwood.

​Over the last 45 years, the British Post Office has issued a large number of 'Prestige booklets'. These booklets contain stamps as well as lots of interesting information on a particular subject. They cover such subjects as trains and newspapers.

Although they are often very attractive, most of them are not really worth anything. Almost any stamp shop will sell them for around the face value of the stamps. However there is one exception. The £1 book of stamps issued to tell the story of Wedgwood currently has a catalogue value of £60. The reason for this is that the booklet contains one particular stamp that you can't find anywhere else.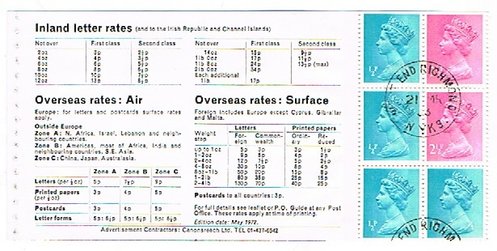 The booklet contains four panes of stamps. The final pane (illustrated here) contains six stamps - two of which are 2 1/2p stamps and four of which are halfpenny stamps. It is the halfpenny stamps which are the interesting ones.
The halfpenny stamp on the right of the pane has a single phosphor band running along the left side. If you collect Machins, this booklet pane is the only place where you can obtain a halfpenny stamp with a left hand phosphor band. As a result, this single stamp catalogues at £60 mint. It's almost impossible to get it postally used because relatively few were issued.

The £60 is probably rather an overestimate of its worth. You can usually buy the panes on ebay for between £10 and £15. But it's an interesting item. And I was glad to put it into my collection.