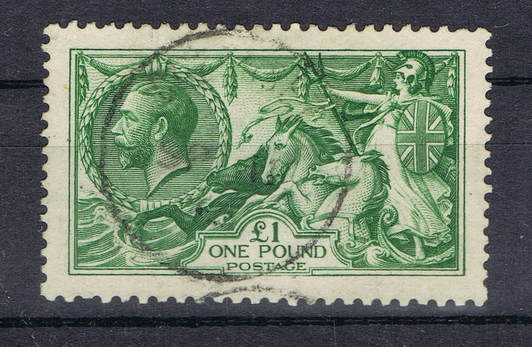 I
t's one of those stamps that every collector dreams of having. It's beautifully designed, it's instantly recognisable and it's the pride of many collections of British stamps. So how much should you pay?
Well, it's an iconic stamp in every sense of the word. Everyone knows what it is. and everyone knows that it's valuable. It also represents a time when stamp collecting was an almost universal hobby and when stamp design was seen as very important. The seahorse design - showing a chariot pulled by horses coming out of the sea - was produced by Australian sculptor Bertram Mackennal. Although seahorses were produced throughout the reign of George V, the £1 seahorse was only produced in 1913 by the printer Waterlow. There wasn't any real need for it to be reprinted.
When it comes to valuation, the obvious place to look is the Stanley Gibbons Great British Concise Catalogue. The stamp isn't particularly rare. I'm not quite sure how many are knocking about, but it's probably a few million. (I could find out if sent an email to the British Postal Museum and Archive). But it is very desirable. This is not just because it is pretty, but because it is seen as an investment piece. It's unlikely to go down in value very much.
Stanley Gibbons puts a cat value of £1200 or £1400 on the stamp - depending on the shade. for well centred or lightly used examples, Gibbons will charge an extra 35 percent. I looked on ebay and it was quite easy to get them for £500 or £600. I found mine at a dealer in Brighton, and he had bought it only the day before. We had a chat and after a certain amount of discussion we settled on a price of £370. It's a nice thing and it should hold its value. And I personally am very interested in George V, so it makes a great addition to my collection.
see also
How much should you pay for a £1 PUC?
Seahorses
The book on George V and his stamps.