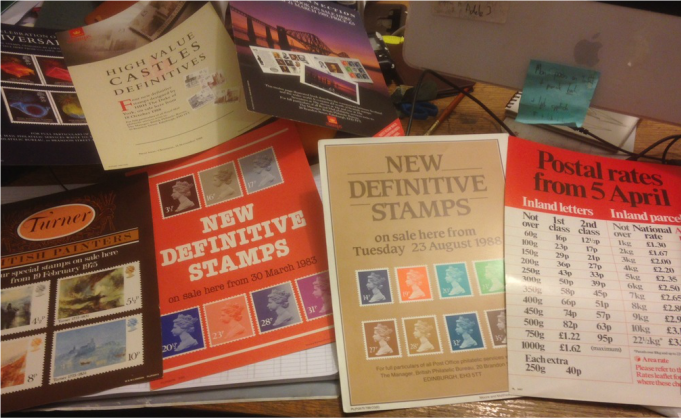 In the good old days when ordinary people still bought stamps and when there were lots of collectors, the Post Office used to issue posters to advertise the latest issues. There were mainly produced on A4 cards: they were very attractive pieces of advertising and nice things to look at.
Because I am interested in Machins, I started to accumulate them. Traditionally, they have been very easy to collect. After all, most post offices would simply throw them away. So if you were friendly with the local sub post office, you could probably get them for nothing. If I find them in stamp shops, i usually pay a pound or so for each poster.
At the most recent Stampex - the major stamp fair held in London - I found a large batch of these posters. Unfortunately somebody else had got there first. As I arrived he was in the process of looking through them and he then bought the lot for £50.
Anyway, I got talking to him. It seems that he runs a website called
www.gbpopos.co.uk
. It stands for Great Britain Post Office Point of Sale. It seems that there are other people who collect this sort of thing. It's an interesting thing to collect and it's particularly poignant as more post offices start to close. His site isn't very well maintained - lots of broken links - but there is some interesting stuff on it and it's worth a look. If anyone has any other interesting point of sale material - either from Britain or abroad - please share it with us.