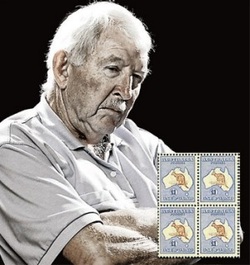 One of the more interesting collections of stamps belongs to the unusual collector, sir Ron Brierley, who shuns publicity and part of whose collection will be sold by Spinks this month.
He is, of course, a multi-millionaire. He was born in 1937 in New Zealand and still seems to live there. He started dealing in stamps when he was still at school, and then want on to be a major businessman. These days he would be described as a corporate raider.: he bought up companies that he felt were underpriced, sold off the component parts and made a tidy profit.
His name never seems to be mentioned in philatelic circles. Over the last three years he has sold off a large amount of stamps but his name never seems to have appeared on the catalogues. The sales of the material – primarily from Spinks in London and Prestige in Australia – describe the stamps as being from 'lionheart' collection. Quite why his name is never mentioned, is a bit of a mystery. After all, most stamp dealers and serious collectors know who he is. Incidentally, it is not obvious why his collection is known as the Lionheart Collection. However it is likely to be linked to his passion for luxury yachts. His luxury yacht, on which he hosts an annual party for the Australian cricket team, is called 'Lionheart'.
The Melbourne-based auction house Prestige Philately sold some of his stamps in May 2014. They described him as follows: 'Our vendor is a collector of rare distinction, a man of discerning taste who has the resources to enjoy his hobby to the full. He has a particular liking for multiples and, indeed, several of the great blocks from the Kangaroo and Georgian Heads series are included here. He also has far greater interest in the front of a stamp than its behind, so while you will note many never hinged items with fresh-as-a-daisy gum, you will also see that a blemish on the reverse has not deterred him from acquiring pieces that facially are beautiful and charming. Many of the Lionheart items are simply breathtaking. The extremely rare First Watermark £2 block is the first we have ever offered. The ...Sydney Views are of unsurpassed quality.
'Returning to the theme of blocks of stamps, this sale includes one of the best selections of high value multiples we have ever been privileged to offer. However, the wider market in Australia still hasn't adapted to the notion that blocks should be worth large premiums over the value of the number of singles present. Certainly blocks of common stamps rarely deserve to attract a significant premium, but blocks of rare stamps are a completely different proposition. If a single stamp is worth $1000, it is simply fanciful to expect that a block of 4 of the same quality should be worth little more than $4000. It should be worth at least double that figure. And what of a $5000 stamp in a block of 4?: $50,000 to $100,000 should not be at all contentious. And the older the issue, the greater the differential should be. Those who buy at current modest multiples can expect to never have cause to regret such purchases.'
I have never come across examples of Brierley exhibiting his material -certainly he doesn't exhibit widely. So he seems to be less interested in getting gold medals for philately, than in acquiring investment material. Of course, there is no shame in that. This would explain why he buys and sells stamps rather than postal history – of which there is very little in the various auction sales. It is easier for investors to ascribe a value to a mint stamp, than to an interesting envelop with some funny cancellations. And that would also explain why he wants stamps that look pretty, even though some might have some minor imperfections.
It is not obvious why he is selling so much of his material now. According to Wikipedia he has no children and he's not exactly young, so he may just want to tidy up his affairs before he pops his clogs.
On the other hand, he might want the money. He was a shareholder in Mowbray Collectables Ltd – a New Zealand firm which sold stamps as an investment portfolio. The firm lost heavily last year and – according to the New Zealand press – was only kept afloat by auction sales of existing stock.
John Mowbray, the CEO, had difficulty selling the remaining stock of stamps and so bought it himself. All of which means that people involved in the old Mowbray Collectables business, would have an interest in getting money quickly, just to keep the business going. There is no suggestion that Brierley himself is short of money, but Mowbray's problems would certainly be an incentive for him to sell some of his collection. Spinks has held four auctions from the Lionheart Collection and is due to have another in June.
If anybody knows anything
more about Brierley and his collecting, please let me know. I'd be particularly interested in any specialised collections or any philatelic displays that he has given.
See also - John Dupont - the multi-millionaire who collected stamps in jail
Forthcoming sales