The Penny Black - the first and possibly the greatest!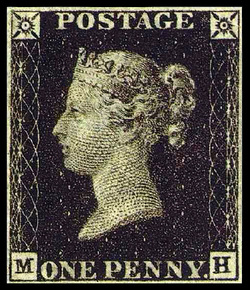 For most school children in the 1950s, 60s and 70s, it was the great ambition to own a Penny Black. It was iconic in every sense the word. It was a symbol of philatelic greatness and a symbol of British world dominance, a symbol of Victorian enterprise and a symbol of the British empire. It was almost a magical item – to be discussed in hushed tones.
As most stamp collectors know, the Penny Black was the very first stamp ever made. It came about as a result of a pamphlet, privately printed, by a former schoolmaster called Rowland Hill. He pointed out that the cost of conveying a letter from London to Edinburgh, was actually about one third of a penny. But the cost of postage was around one shilling. This was because a vast number of items were sent free – ie newspapers and correspondence from MPs. And also because of the complex arrangements for payment: the fees were paid by the recipient and depended on the distance.
He proposed a penny post, where a letter of a certain weight could be sent anywhere for a penny. The treasury, which was under pressure to reform the system, gave Rowland Hill a job. And he held a competition to look at the best way of organising the new system. The two main methods were postal stationery (ie a stamped letter) and a sticky stamp. The stamp had to have a complex design which would be hard to forge. As a result, the penny black was created. The first copies were sold in 1840.
The penny post coincided with the development of the railway and steam ships. So it created a revolution in communication, probably more significant even than the internet or the telephone. It also boosted trade because it was easy to put in order or sent out catalogues. And with registered post, it was relatively simple to send money via the mail.
In fact there were around 68 million penny blacks printed, so they are not as rare as most people think. They were only withdrawn because it was hard to cancel a black stamp, so they were replaced in 1841 with the penny red.
The stamp had a stunningly beautiful and simple design. The printers, Perkins Bacon, took the head from a design by the painter William Wyon. They added a machine engraved background, which was deliberately hard to copy. The printing method is described as line-engraved or intaglio. The ink is pushed into recesses of the paper, so you can actually feel the ridge on the stamps.
Eleven printing plates were made for the stamp. Each of them are slightly different in terms of the lettering used and the insignia on the stamp. Experts can tell exactly which plate each stamp came from – but it is a laborious process.
The main question that people ask is 'How much are they worth?' This depends on condition. The stamps were unperforated – ie they had to be cut out of sheets with a pair of scissors. Some are badly cut and mauled about. Others have four large margins. A penny black in fine condition with four margins, will be worth £200 or £300. Stamps with one or two good margins will probably be as little as £30.
Mark Bloxham stamps
is currently selling three margin penny blacks for around £60. Of course, you pay more for particularly rare plates.
What's the best way to start collecting penny blacks. Don't buy penny blacks straight away. Start by collecting penny reds. They are far cheaper, you can buy lots of them. After you've had experience with these, you'll recognise what a decent penny black should look like. Only then should you think about shelling out a couple of hundred pounds for the first, and possibly the greatest, stamp of all time.
see also - Is it worth joining the Royal Philatelic Society London
---