The Australian Kangaroos - 'Roos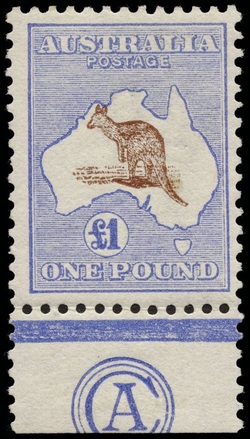 Until 1900 Australia was administered as a series of states - New South Wales, Western Australia, Victoria, Queensland, South Australia and Tasmania.

Although the states came together to form the Commonwealth of Australia in 1901, it took a further 12 years before the postal services of the six states were unified. So it wasn't until 1913 that Australia produced its first postage stamp.

The design was chosen after a competition. The winner of the competition was a design showing the head of George V surrounded by Australian symbols such as kangaroos. However, largely as an assertion of Australian independence, Postmaster Charles Frazer decided not to use this design. Instead he chose the one that came second. It showed a map of Australia and a Kangaroo. In philatelic circles, these stamps rapidly became known as 'roos'.

The design is generally attributed to a gentleman called Blamire Young. He created what is probably the most famous and most sought after series of Australian stamps. The first stamp to be issued was the red one penny stamp. This was only issued for a year, before being superseded by a stamp with the head of George V. From then on, the main definitive stamps of Australia tended to alternate between the Roos and the George V heads - rather depending on the political situation in Australia at the time.

The roos went through a large number of printings, continuing for almost 25 years. For collectors, there are several different watermarks. And there are a number of plate varieties. It is relatively easy to tell the plates apart, because the breaks in the lines which frame the image are in different places.

The high value stamps are particularly prized. And the top collectors are always keen to secure imprint blocks with the mark of the printer underneath. In the case of the One pound stamp shown above, the COA insignia stands for Commonwealth of Australia.


---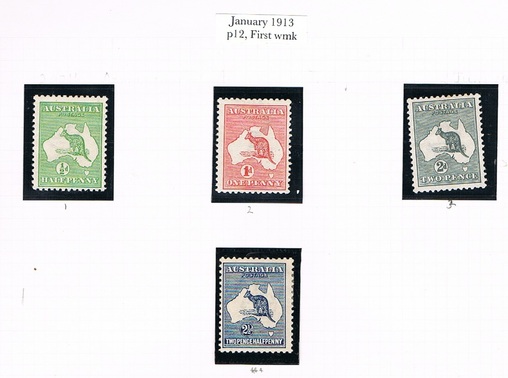 ---