The £5 Orange - a golden prize for serious collectors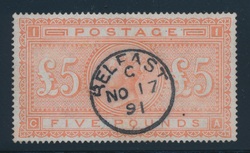 A few weeks ago I was in a stamp shop and saw an elderly man talking to the dealer. The man was retiring and selling his home and buying a small flat. He therefore expected to come into a reasonable amount of money. He had always wanted to own a mint five pound orange stamp and was talking to the dealer about the best way to acquire one.
The dealer rang up a colleague who owned a fine copy of the stamp. After a couple of minutes of chatting, the dealer arranged to buy the stamp for £13,500. It would be payable in three monthly instalments. I should point out that the dealer wasn't making any money – he was just helping a valued customer.
Incidentally, I looked up the catalogue value of a mint five pound orange. The range was between £14,000 and £70,000 . I can only assume that it must have been one of the better variants, because the man – who obviously knew a lot about the stamp – thought he was getting a very good deal.
What struck me was that the man wasn't rich. But the stamp must have cost the equivalent of about six months' salary. It was a lot of money, but for the buyer it had obviously been a dream to own this particular stamp. And when he sold his house, his first thought was not for a world cruise or a sports car or a fur coat for his mistress, but for this particular stamp.
The five pound orange is one of those iconic stamps that people want. I normally don't like the word iconic, but this is genuinely an icon – it is something that symbolises philatelic greatness. It is seen an almost unattainable treasure, the culmination of career in collecting.
The stamp was first issued on 21 March 1882. And a total of 246,000 were printed. Many were used for paying excise duty – often on whisky – and others were used for bulk mail, telegrams and internal accounting. If one post office owed money to another post office – for stamps or services or whatever – the bill would be paid with high denomination stamps. It would be unusual to find one used on parcels or letters.
It is a large stamp and a very attractive stamp and frequently features on the front of auction catalogues. And if you want something in your collection that will make an impact, they're not bad value. If you look around and talk to reputable dealers, you can probably get a fine used one for under £2,000. But because of the money involved, you need to check the quality carefully.
Dr John Horsey has written a book on the £5 orange, which is lavishly illustrated - and very expensive.

Famous Stamps
See also –
The Penny Black – the first and possibly the greatest.
---