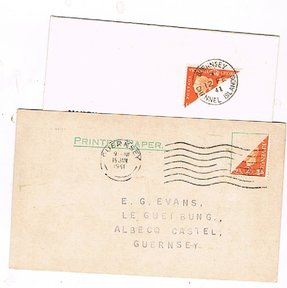 When Guernsey was invaded, local philatelists knew what to do. They started chopping up stamps.
I bought these two items - an envelop and a postcard - about two weeks ago. I think I paid about £20 for them. During the war, the Channel Islands were occupied by the Germans. Obviously, the postal services to the British mainland were suspended, but you could still send letters around the island or indeed to France or Germany.
Within a very short time, stocks of stamps began to fall. So the local post office in Guernsey, announced that it would allow 2d stamps to be bisected and used to pay the standard 1d rate, until new stamps could be printed locally. Bisects could officially used from 27 December 1940 to 22 February 1941.
Bisects are usually very collectible. The stamps are generally cut corner to corner. And there are many instances where this method has been used as a temporary expedient when stamps are in short supply.
However in this case, allowing the bisects just made matters worse. All the local philatelists started chopping up 2d stamps and posting them, so they could have superb items for their collection. They not only started chopping up the modern 2d stamps, but many of them also dug out old George V 2d stamps - which had relatively little value - and started bisecting them as well.
There was very quickly a shortage of 2d stamps as well as 1d stamps. Both of these items shown were sent for philatelic reasons. There was no message written on the postcard and the envelop was not sealed down - so presumably there were no contents.
Among stamp collectors 'philatelic' is almost a dirty word. Collectors want items that were sent for genuine postal reasons, rather than manufactured by keen stamp collectors. If the postcard, for example, had a message on the back and been sent to a local tradesman with an order for some item, it would be worth significantly more than I paid.
Another interesting sidelight, is the mania of stamp collectors. The island of Guernsey was occupied by the Germans, it was suffering all sorts of privations, lots of things would have been commandeered by the occupying soldiers and there was the prospect that Britain faced defeat. And yet the stamps collectors were still looking for ways to improve their collections. Critics might way that they were very hard-hearted. Others would suggest that they were just continuing their hobby, even in the most adverse conditions.

see also
Collecting Control numbers on British stamps
Was the emperor of Ethiopia a keen skier?