The billionaire who collected stamps in jail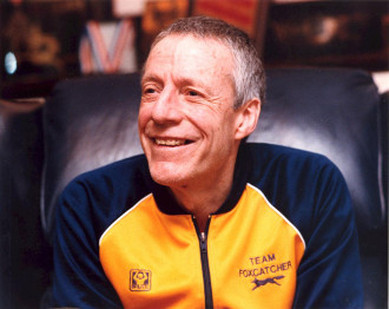 Many readers will have seen the film 'Foxcatcher' about the life of John du Pont, the rich and unhappy man who became obsessed with wrestling and eventually shot and killed his team trainer and spent the last 14 years of his life in jail. On Thursday, I met a close friend of his.
John du Pont had a number of obsessions. He was obsessed with birds, wrestling and stamps. At one time he owned the most expensive stamp in the world – the British Guiana one cent magenta. At the Royal Philatelic Society London, I met one of the men who helped him build up his stamp collection.
Robert Odenweller is an internationally famous expert on stamps. He often advised du Pont on what to buy. He was at the RPSL because another of his rich friends – Israeli billionaire Joe Hackmey – was exhibiting part of his collection.
Odenweller was reticent about discussing du Pont. 'I don't normally get asked about him, because I don't tell people that I was involved with him,' he said. However he described du Pont as a 'friend' and said that he used to visit him in prison.
'I understand he used to collect stamps in prison?' I said.
'No, that's not true,' said Odenweller. He wasn't allowed to have stamps in prison.
Although he wasn't allowed to keep the stamps in prison, he was able to buy stamps and add to his collection. His purchases were made through lawyers. 'He couldn't see the stamps. He could only view reproductions of them.'
Did he buy any good stamps? I asked. Odenweller shook his head. 'They weren't always what he thought they were.'
'Does that mean he was being ripped off?'
'You could say that,' said Odenweller.
Nor was Odenweller very impressed with the film. 'There were a lot of small things that were wrong.'
But was the portrayal realistic? 'It wasn't the John du Pont I knew.'
'Was du Pont very mad?' I asked, then added: 'I realise he was a friend of yours, but he did shoot someone.' Odenweller, understandably, didn't like this question very much. Later, it occurred to me that Odenweller's life might have been in danger. After all, if du Pont could shoot his leading wrestling adviser for no very clear reason, he could just as easily have shot his stamp adviser.
Du Pont was certainly a distinctive man. He had vast sums of money and almost no friends. He was obviously clever and seemed to be forever finding activities to fill his time. In many ways he was imprisoned by his money. Because he was interested in ornithology, he founded a natural history museum. Because he was interested in wrestling, he underwrote the USA training programme. There was almost no-one with whom he had a normal relationship. He was married – but only for ten months – to a physiotherapist who helped him recover from an injury. Philately was just one of the activities that he used as a way of escaping from the normal world.
The meeting with Odenweller made me think about collecting. Du Pont must have known that the collection would be broken up on his death – because he had no immediate family. And it was obvious that he would never be let out of prison. It's not always easy to understand why people collect things, but it's even harder to understand why a man would collect items that he knew he would never see.
See also - Joseph Hackmey - His money and his fabulous stamps
Other famous collectors
Big Money for the 'Frame Inverted' Western Australian stamp
Jack Shamash has also
written - George V's Obsession - A King and his stamp, which examines why people collect stamps
---