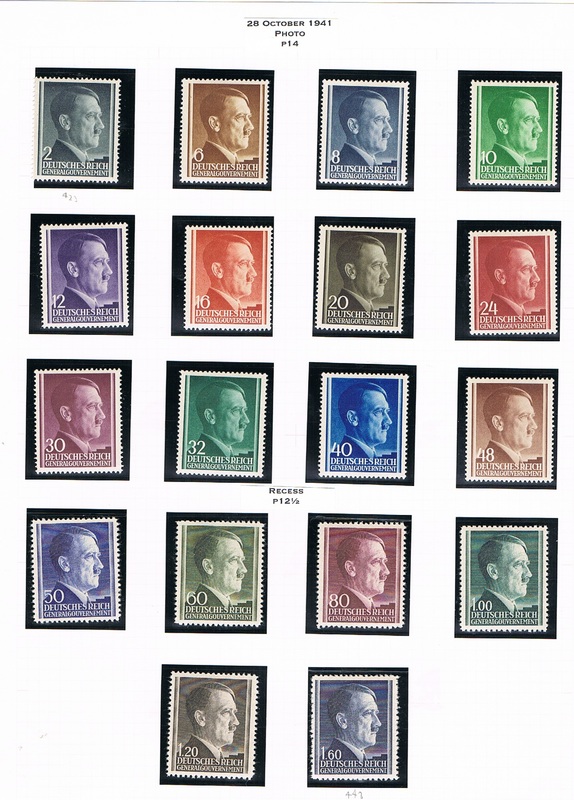 A couple of years ago I was in a small stamp shop, where a man was looking at German stamps. He came across some stamps of Hitler - very common, not in complete sets and not in terribly good condition.
Funnily enough he bought the lot - including duplicates. He seemed to get excited at the thought of owning stamps with Hitler's image on it.
I don't suppose he was some kind of Nazi. But probably like a great many people all over the world, he was fascinted by the imagery of Hitler.
The stamps illustrated on this page were part of an album of Polish stamps that I bought in Brighton. The dealer told me that Hitler stamps always sold very well. I pointed out that these particular stamps have a fairly low catalogue value - under £10. But evidently, there is always an interest - arguably an unhealthy one - in these items. Similarly a friend of mine - not a stamp collector - got very excited when she found an assortment of German stamps with images of Hitler in her Dad's old album.
There are just a couple of points to be made about stamps with Hitler. Most of them are not valuable, because they were produced in vast quantities as a way of showing Hitler's power. The ones illustrated are Polish (the General Government was the name for the German administration of the region) but there were also plenty of German ones and also Hitler stamps overprinted for Ukraine and Russia. At the end of the war, lots of them were looted by soldiers and ended up in just about every album in Europe. So these stamps are not of major philatelic interest, but they are historically interesting and also shed a light on our continuing obsession with the darkest part of our recent history and with the dark side of human nature.
See also
The latest blog




Stamps from Poland


Investing in stamps