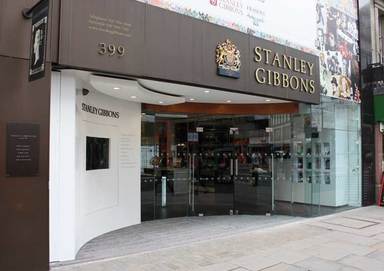 As a collector, I often spend money on stamps. Today I did something a bit different. I spent money on a stamp company.
I decided to buy some shares in Stanley Gibbons. As most people will know, Gibbons is the most famous British stamp dealer and its catalogues are famous throughout the world.

I bought the shares for a number of reasons. A couple of years ago, the shares were at £3 each. Now they are around 10p.
The reason for this fall is primarily that they tried to become a huge collectibles and auction enterprise. They bought up an auction site, which was a disaster, and started dabbling in all kind of things that were frankly beyond their expertise. And they started touting these collectibles as investment products and made excessively optimistic promises about the returns that would accrue. Initially their accounts showed vast profits, but these were largely illusory and the shares became virtually worthless.
Anyway, they are now mending their ways. They have appointed a new chief executive, Harry Wilson, who happens to be a serious stamp collector. They have got rid of a lot of their collectible businesses and are concentrating primarily on stamps - although they are still associated with antiques and autographs.
And they are taking a more pragmatic view on their stock. Stanley Gibbons must have millions of pounds worth of modern mint decimal stamps. In a few years' time, it is quite possible that the privatised post office won't accept them and they will be virtually scrap paper. I noticed that the Stanley Gibbons website is now offering them as postage - '100 first class for £50' - where the face value is £65. This is the first time that Stanley Gibbons has recognised that large parts of its stock are not worth much. So they have allowed the light of day to intrude into their offices in the Strand.
Anyway, I haven't invested a fortune: just a thousand pounds. If there is a future in stamp collecting, it seems likely that there will be a place for Stanley Gibbons. So, while I'm not advocating this as a sure fire investment, I figured it was worth a punt. But if any of you decide to buy shares in Gibbons, please don't blame me if it comes unstuck.
Incidentally, this new realism could affect ordinary collectors. Modern first class stamps are currently catalogued at £1.25 each by Gibbons. Since Gibbons themselves are selling them at 50p each, it will be hard to justify the high catalogue prices at which Gibbons are currently offering these stamps.
See also -
Mr Woo and his expensive birds