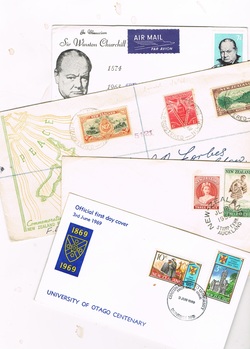 For many years, particularly in the fifties and sixties, almost every schoolboy had an accumulation of first day covers – these are the commemorative envelops posted on the first day of issue of any new stamps.
Serious philatelists tend to sneer at first day covers. They regard them as a contrivance of the various post offices and, frankly, a bit of a con to coax money out of gullible collectors.
Now I quite like first day covers. They are pretty, they contain a certain amount of useful information, they evoke a particular era and right now they are very cheap. I just put the New Zealand covers, illustrated above, on ebay. I got £1 for four covers, which I thought was ridiculously cheap. Realistically, I don't think that these sort of covers will ever be worth money, but as long as they remain cheap, they are a nice thing to have in your collection.
Although most first day covers (FDCs) are likely to be relatively cheap, there are some which are worth a great deal. I hope to cover some of these in future posts.

See also -Collecting tips and hints
Millennium - the last great British stamp set