The Compulsive Collector who built up the £20 million Chartwell Collection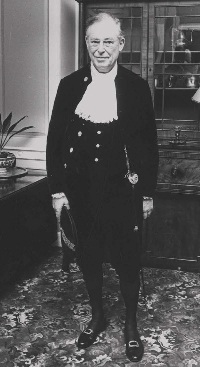 Sir Cyril Humphrey Cripps was an obsessive collector – even at a very early age. After his death, his children found a shoebox in the back of his wardrobe, containing thousands of train tickets bundled and carefully placed in perfect chronological order, which he had accumulated from his time at school.
Spinks, the auctioneers who sold his collection in 2011, wrote: 'These were memories of his past and a clear indicator of the true collector he would become.' Less charitable observers might have seen this as an indication that he was a bit dotty.
His collecting might have been a bit odd, but he was certainly very shrewd in other ways. Born in 1915, he was brought up in Northamptonshire and went to Cambridge University where he read natural sciences at St John's College.
He joined the family firm, Pianoforte supplies. The firm initially made accessories and metal work for pianos, but later specialised in accessories for the British car industry. In the 1970s he started using a family firm, Cohere, to buy shares in Velcro, the firm which manufactured the famous hook and loop tape for fastening clothes and shoes.
His family took over the company and – first under Sir Cyril Humphrey Cripps and later under his son Robert – it continues to be the major shareholder.
The family developed a reputation for secrecy. Velcro held its annual general meetings on the Caribbean island of St Maarten. Other parts of the family's interests were held in the Dutch Antilles. The firm acquired the interests of Velcro in Canada.
Throughout most of his period sales grew – as new uses were found for products – in such fields as aviation and surgery. Annual sales reach US$115million in 1992, but the firm was forced to make large tax payments to the Dutch and US Governments. By 2003 sales or Velcro industries were US$261 million.
Some of this money was spent on charitable donations – often to colleges and to his old school – the County Grammar in Northampton. But he also built up a huge stamp collection. According to the catalogue produced by Spinks, his interest in stamps was aroused after he bought his son, Robert, a stamp album and some accessories. His son went back to boarding school. By the time he returned home, his father had become an avid collector.
Sir Cyril Humphrey Cripps specialised in stamps from Bermuda and the Virgin Islands as well as New Zealand. But his most famous purchase was the 'Post Office' Mauritius 2d blue, which he bought for £29,000 in 1972. He acquired thee Perots – the rare stamps produced by the post master in Bermuda – and had a fine example of the Missing Virgin from the Virgin Islands. He also had the 12 original reconstructions of the 1d black plates, prepared by Charles Nissen, as well as a rare Tyrian plum 2d and blocks of sea horses and £5 Orange.
The auction prepared by Spinks in 2011, was expected to realised £20 million, although probably achieved slightly under this figure. The 2d Mauritius alone realised over £1 million including commission.
The collection is often known as the Chartwell Collection. Most people will associate Chartwell with the home of Winston Churchill. However in this case, the name seemed to have been chosen because Chartwell Industries was one of the firms run by the Cripps family. An AGM held by Velcro Industries in the Dutch Antilles in 2009, reveals that Robert Cripps (Cyril's son) was chair of Chartwell Industries. It is not immediately obvious who owned the stamp collection – whether it was privately owned by Cyril Humphrey Cripps or whether it was owned by one of his companies. So the Chartwell Collection might actually have been owned by Chartwell Industries or one of its affiliates. This might explain the unusual name.
see also - Other great collectors
Dupont - the sad billionaire who collected stamps in jail
Joseph Hackmey - the giant of the Israeli insurance industry
---