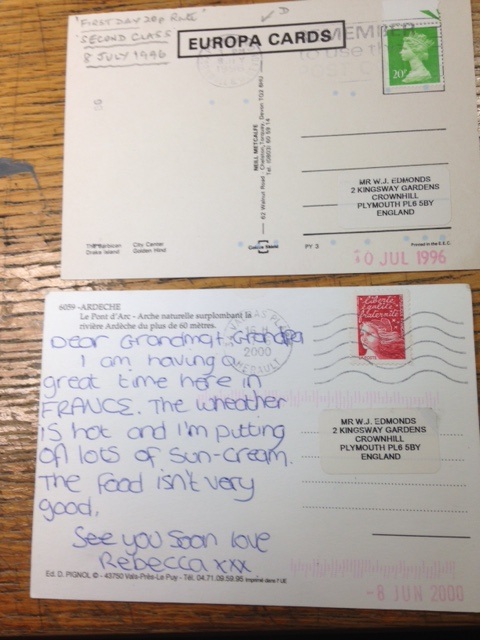 All stamp collectors are a bit obsessive, but some are slightly dottier than others. The group of people who strike me as particularly unusual are the ones who collect post marks.
Most postmark collectors are slightly mad, but they are mad in their own way. I used to subscribe to the Australian philatelic society. Every issue had a report from one man who used to go around the most inaccessible post offices (and some were hundreds of miles out in the bush) and get obscure handheld date-stamps on his letters.
Another man used to send stamped addressed postcards to remote offices in Britain, asking the local postmaster to stamp and return them.
One of my friends collects discontinued postmarks from the west Indies. Over the last hundred years, a lot of post offices in the West Indies have been closed down. Often they were linked to a small farming or mining community which had dwindled away. He would spend huge amounts of efforts and quite a lot of money to get hold of stamps which had been cancelled with the names of settlements or ports.
There is something slightly endearing about collecting post ,marks. They are unlikely to be really valuable, but they are rather nice and can be very informative.
A few weeks ago I bought an auction lot. Among other things, it contained a large number of postcards, which had obviously been posted by someone obsessed with postmarks. The cards often had a brief description of the journey ('arrived down the steep fill from the Cathedral into the shopping area'), a pencilled note on the stamp used ('booklet Harrison' – presumably the stamp was from a booklet made by Harrison the printer) and a note on the cancel ('inverted number on circular date stamp'). The man, had sent himself postcards from all over the world – and obviously carried small address labels for this purpose. I suppose it's a bit like keeping a diary.
The man had obviously roped in his family to join him in the quest for obscure postmarks. There was one lovely card from his grand-daughter. "Dear Grandma and Grandpa. I am having a great time in France. The weather is hot and the I'm putting on lots of sun cream. The food isn't very good. See you soon, love Rebecca.' I noticed that the cards from his grandchild had been addressed with one of the pre-printed labels. So the man obviously handed them out to his family members for this purpose. They were obviously prepared to indulge this mild eccentricity.
Sadly, I had to give away most of the cards to a charity shop, where they sell them for a few pence each. But looking through the cards gave me a glimpse – and a quite pleasant one - into someone else's life.
Collecting Polish Stamps

Famous stamps