The Lure of 'Seahorses'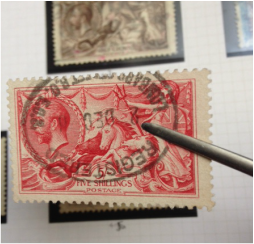 The 'Seahorses' are among the most distinctive and desirable British stamps ever produced. But they have a sort of mythical attraction among stamp lovers, which is not always easy to explain.
For those who don't know, Seahorses are the high value stamps of the reign of George V. They were produced between 1913 and 1936 and featured an image of Britannia emerging from the sea, in a chariot pulled by horses – hence the name by which they are popularly known.
They are obviously desirable because they are high value stamps. But more than that, they are seen as being everything that a stamp should be. They are beautifully designed – by an Australian sculptor called Bertram Mackennal. The stamps have a sort of nobility and the horses look very active, rather than stiff and rigid.
They are beautifully engraved and produced by the intaglio (recess printing method) which makes them look very expensive. The method of printing means that they feel nice – you can feel the engraved lines which have pushed into the paper.
And the printing history is interesting. In 1913 they were printed by Waterlow, then in 1915 by De la Rue, from 1918 by Bradbury Wilkinson. If you take a few minutes, it is relatively easy to distinguish between these varieties. In 1934 because the plates were getting worn out, they were re-engraved with cross hatching. These are very easy to identify.
There were only four values made. The £1 stamp (green) was only produced in 1913. The others two shillings and sixpence (brown(, five shillings (red) and ten shillings (blue) were produced from 1913 until 1936. There are slight differences in shades, some of which were caused by problems in buying printing inks during the First World War.
As for the prices, you can buy used copies fairly cheaply. A good/fine set of re-engraved stamps should probably cost you about £30. And last week I bought a nice Bradbury Wilkinson used five shilling for £7. But if you want a fine (mint or used) one pound stamp, you'll have to spend several hundred pounds. But if you get a good one, it should keep its value.
See also - The Penny Black
The story of how the Seahorse stamp was created is featured in George V's Obsession - a King and his Stamps by Jack Shamash
Join Jack Shamash's Facebook Group - The Stampblog - for regular updates and information

---