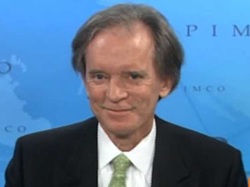 For people with a lot of money - and I mean an awful lot of money - there is a macho side to stamp collecting. It's not just about getting lovely stamps or having something beautiful to look at: it's about showing that you can outbid, outfox, out-collect your rivals.
Charles Shreve is a famous auctioneer, who works as the assistant and philatelic expert for Bill Gross - a billionaire bond dealer. I met him in London where Shreves had brought along a selection of Gross' early American covers, which were obviously worth millions.
Shreve told a story about his employer. It turned out that Gross had been thinking about buying a particular rare cover. So he rang up Shreve to ask how much he should pay. 'I told him five million dollars - tops,' said Shreve.
Gross then rang up the owner, who incidentally had no real intention of selling the item. Gross told him that he would pay five million dollars if the owner agreed to sell within five minutes. Thereafter, the price would go down by $100,000 every 30 seconds. According to Shreve the owner complained that this sort of behaviour was unethical and unfair. However within five minutes he had rung back to agree the sale. Shreve smiled at this story: 'I think Gross was throwing his weight around,' he commented.
I later asked Shreve about what motivated Gross to collect. 'I don't think he has the sort of passion that a lot of the collectors here have, but he is genuinely interested in stamps.' It seemed as if, for him,collecting was a sort of rich man's sport - like a high stakes poker game.
The financial aspect of stamps is very important to Gross. His mother bought large quantities of mint USA stamps as an investment to put him through college. When she came to sell them, they were virtually worthless. He has publicly stated that, after this experience, he was determined to see stamps not just as a hobby, but as an investment on which he could get a reasonable return.
In fact Gross, who was born in 1944, was at one time a professional blackjack player. He became a bond dealer and made a fortune when the Federal government invested in two banks with which he was involved. He is generally described as a bond dealer and is best known as the founder and chief investment officer of PIMCo, the world's largest bond manager.
In 2006 he sold off – through Shreves Philatelic Galleries – his collection of British stamps for $9.1 million. The money was given to the charity Medicins Sans Frontieres. Two years later he sold off his Finnish and Swedish collections. In November 2005 he became only the third person to build a complete collection of 19th century USA stamps. He did this by swapping a block of inverted jenny's for the famous 1868 1c Z Grille. He has also given large sums to the philatelic museum at the Smithsonian in Washington, which has named a gallery in his honour.
Incidentally, Gross has expressed his intention to give away the vast bulk of his money to charitable causes before he dies. Since he doesn't want to keep his money or give it to his children, he obviously enjoys the challenge of accumulating money as much as he enjoys the thrill of getting unique stamps.
see also -
Other Famous Collectors
Weitzman - the proud owner of the world's most expensive stamp
John du Pont - the millionaire who collected stamps in jail
---