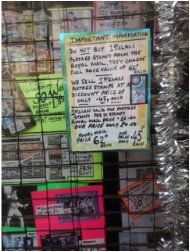 People often get told that modern mint stamps are a good investment. In fact they are a rotten investment.

In Britain literally billions of pounds have been spent on stamps by people who wanted them as an investment. They will have lost heavily! There are almost no stamps, sold by the Post office over the last 40 years, that have appreciated in value.

The only good thing about modern stamps is that - in Britain at least - you can still use all decimal stamps (post 1971) for postage. So if you bought one pound's worth of stamps in 1974, the Post Office will still accept them. However, this means that - as an investment - they were a pretty dreadful buy.

A dealer will get offered thousands of pounds worth of decimal mint stamps every year. they will usually buy them for 40 per cent of face value and sell them for around 70 per cent of face value.

Just to prove my point, here's a picture I took in Brighton in August 2015. This particular dealer was offering first class stamps, which cost 63p at the Post Office, for a mere 45p. Needless to say, he was doing a good trade.