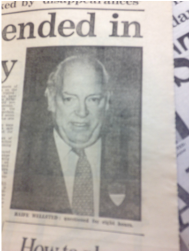 Raife Wellsted has the dubious distinction of being one of the best known philatelic crooks in Britain. As the former curator of the National Postal Museum, he the opportunity to help himself to large quantities of extremely valuable stamps. And he took his opportunity with both hands!

It is hard to find out a great deal about him. There is only one picture of him on the internet. And the organisations which were associated with him are, unsurprisingly, not particularly keen to talk about it. but the fact is that he raised a lot of money by the simple expedient of selling stamps from the national collection. In many cases, the collection had four or five sheets of a particular stamp. Wellsted would give sheets to intermediaries to sell, and would share the proceeds.

By 1985 the Philatelic trade was asking questions about where all this material was coming from. And by 1987 it had its answer when Wellsted was convicted. The money was supposed to have gone towards paying personal debts, although I haven't been able to discover what these debts were. Incidentally, he died in 2012, so I'm not sure what he did in the last 25 years of his life: before his fall from grace he was a respected philatelic writer and a signatory of the Roll of Distinguished Philatelists.

If anyone can help me fill in the gaps or can supply me with names of other crooks (nothing libellous please!) I'd love to know more.