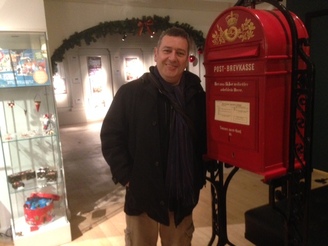 I came back from Copenhagen today. Lovely City. And they seem to take a lot of pride in their Post Office. Walking through the centre, I came across the historic tower, which is a great tourist site. Outside the Post Office brass band was playing Christmas songs. They were all dressed up in formal red clothing which is their daily uniform.
The picture shows me at the Postal museum, which is also in the centre. I'm standing by an historic post box. The museum is actually being moved – about five kilometres away. So the existing museum is largely empty, although there was an exhibition of Christmas postal labels, which dated back to 1942. It seems odd that they could produce such cheerful labels in the dark days of the war when Denmark was under German occupation.
People in Denmark are absolutely charming. The staff at the postal museum were no exception. There was a special area where, free of charge, you could sit down on a bench in front of a picture of an old post office. A female staff member would take a photo on a digital device. We then typed out a message and put our address so that the image could be sent to us as a postcard. We didn't even have to pay for the stamp.
It was a lovely idea and a very positive way of promoting the post. It seems a pity that in Britain any such initiative - or pride in public services - would be virtually unthinkable.
see also - Merry Christmas from the Royal Philatelic Collection