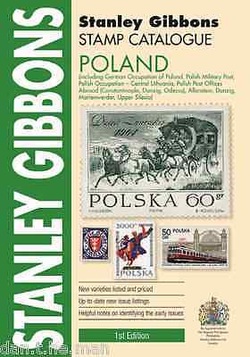 Stanley Gibbons has produced a
stamp catalogue of Poland
. As you might expect, it's very detailed, very well illustrated, although it could have done with a bit of rearrangement.
For anyone who collects Polish stamps, the new catalogue is an absolute must. Previously Stanley Gibbons have produced a joint Czechoslovakian/Polish catalogue, so this is the first catalogue solely devoted to Polish stamps. The sets are well illustrated – in colour – and the book is relatively easy to navigate. It's also reasonably priced at £18.95.
There are a few things to remember about Polish stamps. Modern Poland was founded after the first world war by the League of Nations. So, with the exception of one stamp issued by Russian authorities in the 1860s, all Polish stamps date from after 1918.
Secondly Poland has had a turbulent history. It was over-run by Germany in 1939 and after 1945 it was dominated by the USSR. It only re-emerged as an independent state in the 1990s. All these changes were reflected in the stamp issues.
The third thing to remember is that most Polish stamps aren't worth very much. With the exception of a few mini-sheets, there are very few sets that you can't pick up for under a pound. However, they are beautifully designed, very pretty and have fascinating subject matter. Incidentally, I did think that the price of Polish stamps might rise because of the huge number of Polish people coming into this country (Britain). However, it appears that relatively few of them are stamp collectors!
The new catalogue is comprehensive. It lists virtually everything. The catalogue prices seem to have gone up by about 60 per cent in the last 20 years. For example the stratospheric balloon minisheet of 1938 was £80 in 1994 and is now £120. However, the real value is considerably less. Dealers can usually be persuaded to sell Polish stamps for about a quarter of catalogue value – or even less.
My main gripe is that the catalogue probably should be rearranged. The official stamps and the postage dues are scattered throughout the book – according to the date of issue. It would helpful if they could all be listed in one place – which is how the Great British catalogue is arranged. Aside from that, this is a first rate publication and will be welcomed by collectors of Polish stamps.
other links-
Jack Shamash has a facebook group -the stamp blog - which has lots of information on stamps
Why Polish stamps are worth collecting