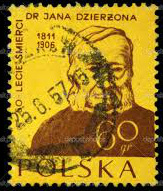 For the last couple of weeks I've been sorting out my collection of Polish stamps and I've found what is probably the oddest subject for a stamp I've ever come across.
The stamp, issued in 1956, commemorates the 50th anniversary of the death of Dr Jana Dzierzona – Poland's most famous bee-keeper.
Now I yield to no-one in my admiration for apiarists (bee-keepers) but as the subject for a stamp this is – to say the least – rather obscure.
It is possible that I underestimate the impact of his death in Poland. And it is possible that whenever two Poles are talking together and the subject turns to bees, they raise a glass to the fine old monk who devoted his life to this study.
I've put up a picture of the stamp – I believe he may have been in Holy Orders, which would account for his strange attire. Fittingly the stamp is in rather nice shades of orange and brown. I looked up Dr Dzierzona on the internet. I couldn't find out a great deal. It seems that there is a museum dedicated to his work, somewhere in Poland. Also that he made great strides in scientific bee-keeping and that he did some serious work on the birth and development of bees.
Finding these strange subjects are part of the fun of stamp collecting. A vast number of Polish stamps seem to commemorate Kopernikus (who discovered that the earth was not at the centre of the universe) and Chopin (the composer). I suppose because modern Poland is a relatively new country – it was only founded after the first world war – the Poles are very keen to assert their identity and culture. This probably explains Kopernikus and Chopin – and they seem to have soft spot for Dr Dzierzona and his bees.
see also - Why Polish stamps are worth collecting