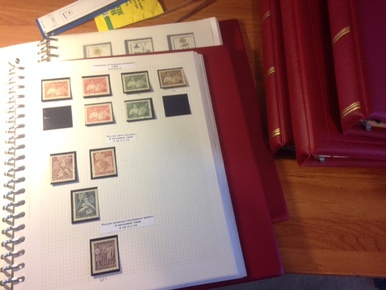 A few weeks ago I bought a couple of auction lots containing large numbers of Polish stamps. I've spent the last ten days mounting them into my collection. And I started to think about the cost of putting stamps into albums.
Poland has made lots of stamps – the new catalogue goes up to SG4660. And many of them are very big and very colourful. I've got most Polish stamps produced before 1980, so I've got a large collection – even if most of the stamps aren't particularly valuable.
I've got seven multi-ring (22 hole) albums, each with around 50 pages of stamps. The seven albums – each with 20 pages – would cost around £30 each new – a total of £210. The additional pages would cost around another £100. I usually put the mint stamps in Showgard black mounts, while the used stamps are simply hinged (because it is so much cheaper). To buy the mounts new, would cost around £200. All in all, the cost of mounting my collection would be more than £500 – if I bought everything new.
Now Polish stamps are very interesting but they are not worth a lot of money. Like many Eastern bloc countries, Poland produced a lot of stamps to gain hard currency. And most of the used stamps are CTO (cancelled to order). My collection has a catalogue value of around £6,000. But because Polish stamps are looked down on by serious buyers, I could probably get a maximum of £600 if I took them to a dealer. In other words, I would be spending more than £500 on mounting a collection that I might be able to sell for £600. As an investment, this is a bad idea.
I'm not suggesting that I only buy stamps as an investment. But I like to think that I – or my heirs - could recoup some of the money that I have spent over the years.
So I don't buy anything new if I can help it. The albums I get second hand from my local stamp shop. Anytime that one comes along in the right colour, I snap it up. I usually pay about £4 each for the 22 hole binders that I use. And if I see any unused second hand pages (I try to get high quality ones) I'll usually buy them – usually for a fraction of the new cost. As for the mounts, people selling their collections will often have a large number of unused packets. I bought a big carrier bag of mounts for around £5 recently. I will also take old album pages that other people have discarded - these cost nothing and I can usually pick them out of a box that my stamp dealer leaves in the corner of his shop. Often it's relatively easy to reuse the mounts. Occasionally I do have to buy a packet of mounts or a pack of pages, but I make sure that I do this as rarely as possible. The cost of mounting my Polish collection was probably around £80.
If you're collecting on a budget – it's better to spend money on stamps than on albums. Of course, if you're horribly rich and you've got enormously expensive stamps, a few quid for an album and some mounts won't make much difference. But when it comes to cheap stamps, you have to watch the pennies.
see also - why Polish stamps are worth collecting