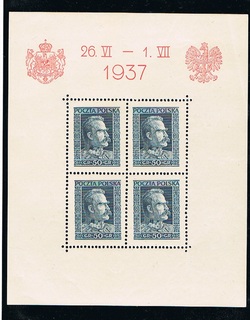 A lot of 'serious' collectors are a bit sniffy about stamps from Eastern Europe. They point out that relatively few of them are worth large sums of money, that during the communist era Eastern European countries churned out vast numbers of stamps to gain hard currency and that you'd be much better off collecting German stamps or Italian stamps or stamps from the West Indies.

I think there is a lot of great things to be said about Polish stamps. Firstly Poland was only created at the end of the First World War. One overprinted Russian stamp was produced in 1860, but aside from this all the Polish stamps are under 100 years old – so they are relatively cheap.

Poland went through a number of changes. Initially it was under Austrian control, but it rapidly became independent as a result of the changes brought about by the League of Nations. So the first stamps of this period were in various different currencies.

By the 1920s and 1930s it was under the control of Marshall Pilsudski who was adored by the Poles because he beat the Russians. There were lots of stamps with pictures of the Marshall looking sterm and warlike.

In 1939 Germany invaded and for six years. As a result there were lots of Nazi stamps – from 1941 they carried images of Hitler.

After the war, the communists took over. There were initially lots of poorly printed stamps but by the 1960s Poland produced some of the most beautifully printed and best designed stamps in the world. All in all, Poland's stamps are a source of fascination and are lovely things to own. And best of all, you can get a really interesting collection for around £300.
I have included two pictures here. One is a minisheet with images of Pilsudski, which was issued to celebrate the visit of the King of Romania in 1937. The other is a delightful 1961 set of stamps celebrating ship building. I have also added a British stamp from the same period, so you can see how uninspired our designers were by comparison with the Poles.
see also - How to sell the world's most expensive stamp
Polish stamps from the government in exile