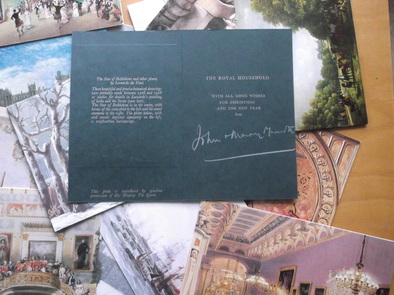 Since 1911 when George V came to the throne, the Royal Philatelic Collection has had an official curator. Official curators included John Tilleard, Edward Bacon, John Wilson, John Marriott and the current curator Michael Sefi. In the philatelic world, they are very important people because they curate what is probably the largest and most valuable collection in the world.
John Marriott was the curator from 1969 to 1995. As curator he was a member of the royal household. A collection of Christmas cards, which seem to span his entire time as curator, recently came up for sale. I bought them because they shed light on how the Royal Philatelic Collection works. The cards were all signed by Marriott and had been sent to the dealer and researcher Harry Nissen, with whom Marriott sometimes collaborated.
Unfortunately, the cards contain very little information about philatelic project, beyond one or two references to previous exhibitions. However they are an interesting piece of ephemera and show how important the links are between the owners and the major dealers.
see also - How Edward Bacon sold off treasures from the Royal Collection

How stamp collecting helped George V to survive the War

George V's Obsession - a king and his stamps - book by Jack Shamash