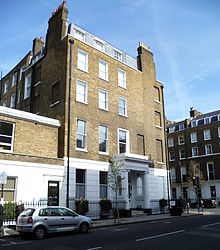 Last Thursday the Royal Philatelic Society London held its AGM. It was an interesting meeting. About 130 people turned up. The big news was that the RPSL needs to make more money. There are big plans for expanding the premises and installing a lift, but this will all cost money. Running the website and online services is costing about £60,000 a year. So far this has been paid for by one-off donations, but this situation can't continue.
The RPSL wants to increase its membership from just over 2,000 to 2,500. There will also be a slight rise in fees – currently £145 a year. The outgoing President, Chris King, asked all members to encourage people to join. So I thought I'd do that.
So what do you get for your money? The Society has rather nice premises in Devonshire Place, just around the corner from Marylebone High Street (nearest underground stations, Baker Street and Regents Park). It's open every weekday and there's a tea trolley, so you can get a cup of coffee and a chocolate biscuit whenever you like.
More significantly it has a very good library. Almost any philatelic book or journal is available there. The librarians are fantastic and there's also an archivist. In other words, for anyone wanting to find out about stamps, it's a great place to be.
In addition there are excellent displays. Many of the exhibitors are the leading experts in their field. They are very accessible, very welcoming to fellow members, and generally very happy to share their knowledge.
There's also an expert committee so you can get your valuable stamps 'expertised' – ie given a certificate to say that they appear genuine. If you have a serious collection, these certificates can make a huge difference to the value of the individual stamps.
And the people are not boring. If you want to discuss the minute detail of Victorian surface printed plates, you'll find many people for whom this is a source of great interest. But I've also had discussions about Italian reunification and the stamps of Sicily, homosexuality and drug taking by British aristocrats in post-war Morocco – with a collector of British agency stamps from Tangiers – and discussions about stamps being used as propaganda weapons in various wars.
If you like talking about stamps, the RPSL is a good place to go. If not, avoid it like the plague. On a couple of occasions I have bought my 19 year old daughter to the society. This is not because she has any interest in stamps, but because it's a good place to meet up in the centre of London. She always teases me that it's full of old men. She's not entirely wrong - the membership is primarily composed of retired men - but at least it's full of very interesting old men, who enjoy a chat and with whom I share an interest.
See also –
Why Children Don't Collect Stamps
Europhilex 2015 - was it the greatest stamp show on earth?