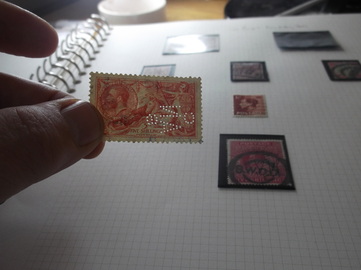 If you look through any collection of stamps, you can usually find stamps with little holes neatly poked in them by special machines. The holes are usually in the form of initials. These stamps are known as 'perfins' because they have perforated initials.
The initials are put there to prevent theft. A firm which sent out stacks of letters or parcels, always ran the risk that staff might grab handfuls of stamps. By perforating the stamps with initials, it was easy to track the stamps. It made the stamps harder to steal – because it was obvious where they had come from – and harder to use without the theft being detected.
Most collectors look down on perfins, because they are seen as damaged stamps. But I have a soft spot for them. Perfins have a bit of a story behind them. For example, a lot of stamps were sent out by London-wide local government such as the London County Council (LLC) and later the Greater London Council (GLC) and the Inner London Education Authority (ILEA). These last two organisations were scrapped by Mrs Thatcher in 1986.
The army and navy store had a very attrractive perfin with the lettering CANS (co-operative Army and Navy Store). And of course loads of these were produced at the time when the store was sending off goods to the far flung parts of the British empire.
And it's always nice if you can find a perfin on a printed letter. For example I have a postcard from the London borough of Barnet (LBB) telling my mum and dad that a book had been reserved for them at the local library. Perfins reflect a way of life. And this gives them a bit of charm.
The picture here shows the perfin of a 5 Shilling George V stamp with the perforated initials of the Army and Navy stores. Pretty, isn't it!
See also Machins - a Commonplace Beauty
Which First Day Covers are Valuable