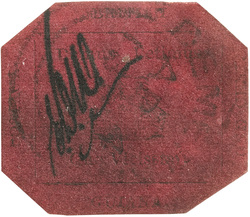 About a year ago I went to Sotheby's – the famous London auction house – to see the 1 cent black on Magenta British Guyana 1856 stamp. It is the world's most expensive stamp and eventually sold for nearly $10m. My visit was fascinating, because it showed how the most expensive stamps are marketed.
I was invited because I am a member of the Royal Philatelic Society London. But the display was part of a larger event – to which lots of rich people were invited.
All the larger rooms were filled with Russian paintings and Russian modern art – some of it very good, some of it quite tacky. And of course there were literally hundreds of rich Russians at the event – all their wives expensively coutured with immaculate make-up and hair.
And there were lots of very classy drinks on offer being handed out by an assortment of extremely attractive waiters and waitresses. I enjoyed a couple of glasses of Champagne, a dry Martini flavoured with lychee and a very nice vodka and fresh pressed grapes. If I'd have wanted, I could have got completely smashed at their expense. And there were lots of little canapes – scallops with some kind of foam, tiny little cornets with parmesan cheese and some little bits of puff pastry, about the size of a ten piece with some kind of mushroom on top. It was all very upmarket.
But it was also rather clever. It made art-collecting seem like some wonderful party, at which you could impress your rich friends. There weren't any curators around explaining the social and artistic importance of the pieces. The potential buyers were investing in a lifestyle.
The pieces seemed to range in price from about £6,000 to £1 million. One item that interested me was a large 1968 vase on which had been printed images of Russian leaders. It was an amusing piece of Soviet-era kitsch, but it had an estimate of £8,000. I would have reckoned that it had a value of around £500. But in this sort of environment, with so many rich Russians, one of them might enjoy owning a vase with pictures of Brezhnev and Kosygin, and might want to pay large sums for it.
The Guiana stamp was in a room by itself. It was a small room, painted magenta to match the colour of the stamp. At one end of the room, illuminated by extremely low lighting, was a glass frame in which the stamp sat. It looked quite dramatic.
It is a strange piece. It is almost legendary, because it is unique - there is only one surviving 1856 1c stamp from Guiana in existence. Also it has been owned by the most famous stamp collectors and it seen as almost the Holy Grail of stamp collecting.
However it is not particularly attractive. The corners have been cut off, it has been signed by the postmaster. On the back are tiny rubber stamp marks and signatures from previous owners. These include Hind, Ferrary and du Pont. For philatelists, these marks are unsightly, but it won't affect the value. It has long been realised that – at this level – people are not just buying a stamp, they are buying a place in philatelic history. These marks just add to the glamour.
The stamp was last sold in 1980, when it was bought by John du Pont. He was an interesting man – a film about him is due to be released later this year. Du pont was a keen fan of wrestling and allowed an Olympic wrestling champion to live on his estate. Then one day in 1996 he shot him. Du Pont spent 14 years in jail before he died. I had assumed that du pont must have been gay and that this must have been some kind of jealous rage, but it turns out du pont was just mad and paranoid and believed that his friend was trying to kill him.
The stamp was last seen in Britain in 1965, when people queued for up to two hours to get a look at it. The philatelists I spoke to, seemed to think that the stamp had deteriorated since then. There seems to have been a slight loss of definition and it wasn't easy to make out the design.
To market it, the stamp has been put on a world tour – going to London and Hong Kong, before being sold in New York on June 17. I suppose the purpose of inviting members of Royal Philatelic Society London is to show just how important the stamp is.
Du Pont had a large collection of stamps from British Guiana. Many of them were incredibly valuable. But this is the best known. The other parts of his extensive collection are being sold by David Feldman in Switzerland. I spoke to Sotheby's Vice Chairman David Redden about this. 'The estate decided to give it to us. We had the apparatus and the security to handle it.'
Many philatelists assumed that the decision to give it to Sotheby's was made because – unlike the rest of the collection –this stamp was more likely to be bought by investors rather than genuine collectors. Itwas expected to end up in the hands of some hedge fund, which would put it in a vault in the hope that it will appreciate in value.
David Redden explained: 'We don't know who'll buy it. Maybe it will be an investor. If you just look in terms of filthy lucre - compared to an old painting, this is relatively cheap.' And obviously, if you are selling to investors, it makes sense to invite all the rich people and their pretty wives, to make the stamp seem like a particularly attractive proposition.
Of course, we later learnt that it had been sold to Stuart Weitzman, the millionaire shoe manufacturer - best known for making all the classy shoes for Hollywood stars. If you're going to get top prices for stamps, it makes sense to surround them with as much glamour as you possibly can.
see also - du Pont - the billionaire who collected stamps in prison
Weitzman - a man with a taste for the finer things.