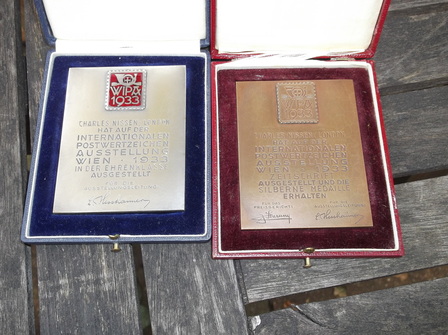 About a year ago, I made one of those rare finds that make philately so interesting. It turned up in a local auction in North London, in a box which had been labelled 'Royal ephemera and two stamp medals'.
The medals were historically highly significant. Not only were they extremely attractive in their own right, but they illuminated an entire era, bringing together some of the most influential figures in philately. They also commemorated one of the most important events in philatelic history.
The medals were awarded at a philatelic exhibitions, which took place 82 years ago in the centre of Vienna. It was at the time when many international figures, including President Roosevelt and King George V, were avid stamp collectors.
The 1933 WIPA (Vienna International Stamp Exhbition) was opened by the President of Austria – Wilhelm Miklas – and attracted 42,000 visitors from all over the world. There were three major exhibition salons and 17 postal administrations were present. Nine printers set up machinery in the exhibition hall to give visitors a chance to see the production of stamps. One of Austria's top sculptors, Ludwig Hesshaimer designed logos and stamps for the exhibition, and was himself chairman of the exhibition committee.
It was a controversial exhibition, because it took place shortly after Hitler had come to power in Germany. Because of disputes between Hitler and Austria, any German wishing to travel to Austria had to pay 1,000 Marks to the German government. This meant that there were relatively few German visitors at the show.
Medals were awarded at the exhibition. These beautiful objects were designed by Hesshaimer and came in specially designed leather cases – each bearing the WIPA 1933 logo. The ones that I found had been awarded to Charles Nissen, the famous dealer who often acted on behalf of George V – he was responsible for buying stamps for the King and also for surreptitiously disposing of stamps which were no longer needed in the Royal Collection.
The silver-coloured medal with the enamel depiction of a stamp is an honorary award. The bronze medal pays tribute to his efforts in producing the exhibition's newspaper and and for organisation. The medals were signed by Hesshaimer and by Josef Sturany, the chairman of judges. The medals are heavy and were obviously expensive to produce. And they reflect the last age when philately was genuinely the 'hobby of kings' and when philatelic developments were seen as internationally important.
see also - Dupont - the mad billionaire who collected stamps in jail
Weitzman - the shoe maker with the world'smost expensive stamp