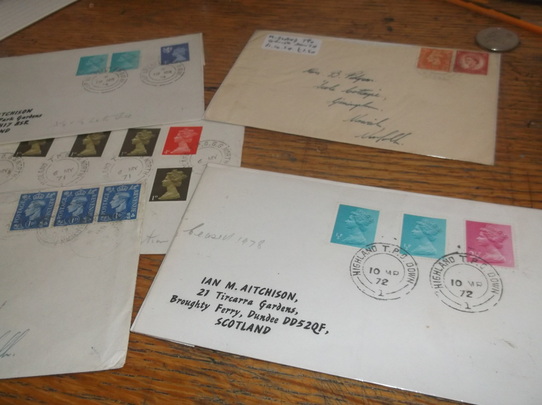 Until 11 years ago the Post Office ran special travelling post offices. These were trains with special carriages, so that staff could sort the letters on the journey. This cut down delays and meant that the post reached its destination more quickly.

There used to be special post boxes at the various stations for people who had missed the ordinary last post. For these letters a late fee was payable and there was a special handstamp cancellation.

Many philatelists became obsessed with collecting letters posted in the various TPOs -with the appropriate handstamps. Obviously, this meant that they had to get the letters posted in rail stations in time to catch the train. Presumably they would get a philatelic friend to drop the letters at Cornwall, Edinburgh, Aberdeen etc, so that the letters could be properly cancelled.

These days the TPO covers are not worth a lot of money. You can buy them for a couple of pounds each. I bought the ones in this picture just a few weeks ago. But they are rather sweet. It's nice to think of all the philatelists coming up with clever schemes to get their letters posted in this way.