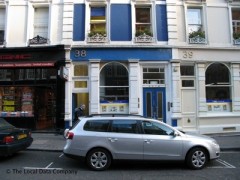 A couple of weeks ago I realised that I had run out of a particular size of Showguard mounts. They are the clear plastic mounts that you can use to put mint stamps into albums. They are not the leading brand, but they are very commonly used and I've never had any trouble getting hold of them in the past.
Anyway, as I happened to be in town, I decided to drop into Vera Trinder - the philatelic supply shop. Alas, Vera Trinder is no more! The shop (pictured above) has closed down and has gone online. So I strolled over to Stanley Gibbons which is round the corner on the Strand. I tried to go downstairs to the department where I normally buy album pages and mount. But it has closed down The space will be used as an auction room, for some of the top philatelic items. Gibbons does sell, some mounts, but it has a much reduced stock. And it no longer sells Showguard.
I went across the road to the Strand Stamp Centre. Again, although they sell Hawid mounts (a rival brand), they don't sell the ones I use.
This might seem a rather tedious story about one poor bloke who couldn't get the stamp mounts he wanted, but it is actually slightly more significant for the philatelic world. There is now nowhere in central London, where you can buy Showguard mounts. Stamp firms are no longer interested in selling cheap items to average buyers. They want to sell big ticket items - valuable stamps - to the rich.
It is scarcely a secret that young people are largely disinterested in stamps But even if young people are interested there is almost no way of pursuing their hobby. And if the ordinary buyers fall away, it seems unlikely that many rich people would suddenly get the urge to collect stamps. There are almost no grass roots stamp collectors. Instead the philatelic world is increasingly a coterie of rich people, buying and selling impossibly expensive stamps. From the stamp collector's point of view, this is not a healthy situation.
see also - Why children don't collect stamps anymore