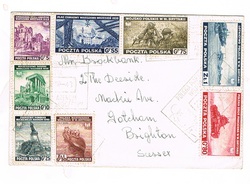 At the start of the Second World War – after the invasion by Germany - large numbers of Polish servicemen managed to escape to Britain. And the British allowed them to set up a Polish government in exile, based in London.
At the end of 1941the Polish government in exile produced its first set of stamps. These featured pictures of Poles fighting as part of the British army. In 1943, a similar set of stamps was produced and in 1944 this set was re-released with overprints celebrating the Battle of Monte Cassino in which Polish forces took a clifftop monastery from the Germans.
In theory these stamps were supposed to be used by Polish forces in Britain. But in fact the stamps had no real use. They could only be used in Polish ships in British ports or on Polish military bases on mainland Britain on certain days of the week. It would have been much simpler for the servicemen simply to have used British stamps.
Not surprisingly, it is not always easy to find these stamps in used condition. This envelop, posted in 1943, has been stamped with the complete first set. Obviously it was sent philatelically, because it has a vast amount of postage on it – far more than one would normally need to send a letter from a British port to Brighton.
It is an interesting cover, and a good example of how stamps can be used as a propaganda tool - as much as a means of communication.
see also Travelling Post Offices - a piece of history