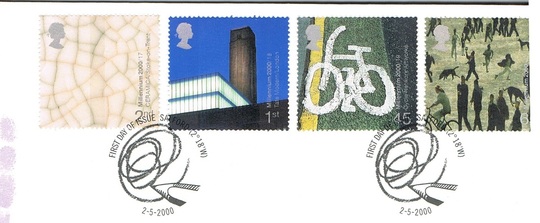 Normally I don't buy modern mint stamps. They're expensive, they'll never hold their value and – more importantly – they don't have any real postal purpose. For the last 15 years or so, commemorative stamps have been created so that the Post Office can fleece gullible collectors. Most of them commemorate events of little interest and they've got very little historical or social significance. And very few of them are ever sent through the post, because they serve little function.
And most of them are horribly designed. For example one set of stamps consisted of film posters from old British 'Carry On' films. By reducing and image from poster size to stamp size, the poster is almost indecipherable.
The one exception that I have made is the Millennium stamps, issued in 1999 and 2000. They were beautifully designed, some by top designers (such as David Gentleman), and they were incorporated into stamp booklets, so you could find many of them in the post.
Over the two year period, the Post Office produced 24 different sets of stamps (a total of 96 stamps) and a minisheet. The stamps were square, carefully thought out in themes – such as the coast or workers or whatever – and were designed to reflect different aspects of Britain over the last Millennium.
Anyway, I never bought the stamps when they were released, but about five years ago I bought one of the special albums that the Post Office produced. I bought this at a stamp fair. This contained special pages filled with the mint stamps, a slip case, and a series of first day covers. I paid around £60, which was about the face value of the mint stamps in my book, so in effect I got everything else free.
I still think they are beautiful stamps and I enjoy looking at them. As stamps become increasingly obsolete and with the opening up of the postal services, I think they will be seen as the final great commemorative issue of the British post office. I know it's a long shot, but one day they might even be worth slightly more than the £60 I paid.
And the picture is of the stamps in one of the issues. These came out in May 2000 and commemorate British arts and crafts.
see also - Prestige Booklets - how collectible are they?