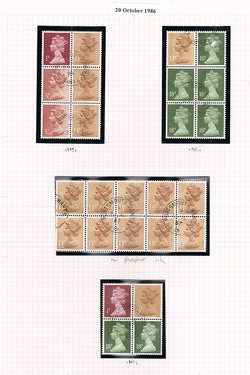 About seven years ago I bought a lovely collection of used Machins from a stamp shop in Brighton. The collection seemed to go from about 1970 to 1990. And it also included all the high value castles which were produced in 1988.
I should point out that Machins are the stamps with the queen's head which were first issued in 1967. The design was by Arnold Machin and it has remained in use ever since.
The person who had put the collection together had bought every new Machin that came out in blocks of four. He also bought every configuration of Machin from stamp booklets. And they were all cancelled, with the dates clearly marked. I'm not sure if the original collector had sent the stamps through the post, but none of them had gum on the back.
The original collector must have spent several hundred pound putting this lot together. - the page of high value castles had a face value of £38 alone. I think I gave the dealer £50 for the album.
I still enjoy looking at them. Several billion Machins have been created since 1967. It is often said Machin's image of the queen has been reproduced more than any other portrait. Machins have a wide variety of different colours. I think the design is incredibly neat and attractive and the colour palates used are very striking. And I love the fact that my collection is all in blocks, which makes them into a really tidy collection.
Most dealers regard Machins as a bit of a joke. They have never gone up in value and most dealers will just use them as postage.
Some specialists buy new blocks of every variety of Machin – including the various print numbers and security codes. I think this is over-doing it. Many of the new Machins are high values – a couple of pounds each. So you could easily spend a thousand pounds a year on stamps that will never be worth anything. But I'm pleased with my collection – it's a design classic, it's attractive to look at and for a relatively small sum of money it has given me a lot of pleasure.
So you can see what I'm talking about, here's a picture of just one page of the collection. Isn't it pretty?
See - First day covers - are they a good investment?

The Millennium set - the last great British commemoratives