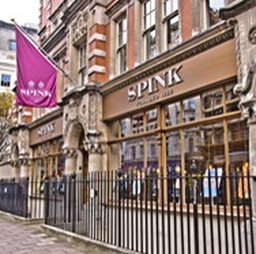 Yesterday I went to my first proper stamp auction. It was held by Spink in Holborn in London and was a sale of the 'Lionheart Collection' of GB and British Empire stamps owned by the New Zealand corporate raider, Sir Ron Brierley.
I had been the previous day to look at the stamps. All the action – viewing and auction – takes place in an air-conditioned lower ground room. About three old men were looking through the lots, under the watchful eye of a young assistant.
The Lionheart Collection is a bit controversial. For a start, it's not really a collection. A collection implies that someone with a particular interest has gathered together a lot of items in that particular field.
The Lionheart Collection was just a lot of superior items of stock. They had nothing in common, and many hadn't even been taken out of the packaging – so they contained the names of previous dealers and auctioneers from whom they'd been bought. Among the stamp trade, the gossip is that Brierley has a whole warehouse of stock that he's trying to unload. I'm not sure how true this is, but Brierley has already organised five sales through Spink and Spink say that some more are planned. He has used other auctioneers in Australia to get rid of stock, so he's doing a lot of selling.
Nor is it obvious why he uses the name 'Lionheart'. Presumably some collectors like the kudos of saying that their stamps came from a famous collection. 'Oh yes, I bought this from the Lionheart collection,' sounds a lot nicer than saying; 'I bought it from a New Zealand stamp dealer'.
A lot of the stock was quite frankly a bit dodgy – with blemishes and trimmed perforations. This was reflected in the catalogue which used phrases such as 'condition very mixed' or 'careful viewing recommended'. But most was in very respectable condition.
There were a couple of things I wanted to bid on, so at about 9.40am – twenty minutes before the auction was due to start – I arrived, registered and prepared to bid.
There were about seven bidders in the room, a couple of auction staff on the phone to telephone bidders and two internet screens with bidders. A well presented young man took the podium and the bidding rattled away quite briskly.
A couple of things were noteworthy. Most of the items sold. The auctioneers were prepared to discount pretty heavily. On some countries, for which there was very little interest, they were prepared to accept 50 per cent of the estimate. There was relatively little demand for British East Africa, for example. But overall, the realisation was quite good. Sales were £256,000 on an estimate of £310,000.
I bid on some Canadian stamps – got to £150 and dropped out. As I was leaving the auction, the man who had bought the lot came up to me and told me that he'd bought the lot in error and would I be interested in taking it off him for the £150 plus premium. I agreed and gave him my details I haven't heard from him yet, but he'll probably be in touch. In which case I will be able to put some pretty stamps in my collection and write the words 'Ex Lionheart Collection' above them.
See also - Ron Brierley - controversial collector
Forthcoming sales