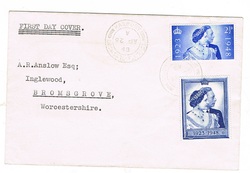 In any stamp shop, there are always stacks and stacks of first day covers (FDCs), most of which are worth very little. They were probably bought by doting grandparents who felt that they might be a good investment for young children.
So is there anything which has real financial value? The great days of first day covers was in the 1960s, when just about every schoolboy (and some girls) would save up their pennies to get the latest stamps. By the 1960s the post office were cashing in on this trend and were using special First Day of Issue cancels and were selling special commemorative envelops.
Most of the FDCs from this era are terribly common. They are very pretty, and very collectible but will never be worth very much. However some of the earlier ones could be valuable. Anything from the 30's, 40's and 50's could be worth money. The Royal Silver Wedding FDC with the £1 stamp, catalogues at £425. I bought one (illustrated) for £30. It doesn't have a pictorial cover, but it is nice and clean and clearly cancelled. The Festival of Britain FDC from 1951 (also illustrated) has a catalogue value of £38. I bought this one (the envelop is slightly toned) in a large and very cheap auction lot. You could probably get a really nice copy for about a tenner.
You have to be wary about catalogue values. At the end of the war, the Post Office issued a set of two stamps to commemorate the victory. Understandably, they were bought by vast numbers of people. The catalogue value of a FDCis £65. I have two FDCs and I paid almost nothing for them.
See Also -
British First Day Covers - Are they a Good Investment
?
Is it worth collecting First Day Covers?