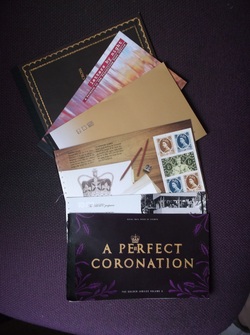 Over the last 40 years, the British Post Office has produced a large number of Prestige Booklets. These have wonderful illustrations, are beautifully laid out, but are worth very little.
I often go to general auctions – auctions where they sell furniture and jewellery as well the odd parcel of stamps. Anyway, a couple of week ago I saw a bunch of these booklets on sale. I did a quick calculation. The stamps are all decimal – ie they were issued after 1970 – so they are all valid for postage. I reckoned that the face value of the stamps was around £60, so I put on a bid of £30. If nobody else wanted it, I would get the lot for £30 plus commission – a total of £37.20 including tax.
I got a phone call the following day to say that I had won. After I picked them up I realised that the face value was actually £95, so I hadn't done too badly.
But I really don't want to collect them. I feel that they are contrived have no real postal use. However there was one booklet pane that I really wanted. It contained the £1 Coronation stamp – which was a copy of the 1/6d stamp designed in 1953. It's very pretty and has a catalogue value of around £55, although you can probably pick it up for a tenner. The original was designed by Dulac - one of the greatest stamp designers - and it's a genuinely nice thing. You can see the stamp - it's horizontal and green - in the middle of the picture.
As you can see, I've already started breaking up some of the booklets. The Coronation stamp, which you can see in the picture has already been put into one of my albums. And the rest I will break up and stick on letters. Incidentally, if you ever feel like buying any of these prestige booklets, ring up a dealer for a chat. He will almost certainly have lots of them and if you ask nicely, he'll let you have most of them for just a shade over the face value.
see also - British first day covers - are they a good investment?