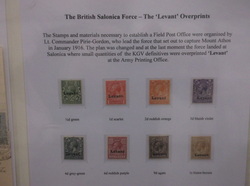 A couple of weeks ago I saw a set of stamps at the Royal Philatelic Society of London. The stamps They were overprinted with the word 'Levant' and had been produced during the disastrous Gallipoli Campaign, in which British, New Zealand and Australian regiments ripped themselves to shreds in an ultimately futile attempt to over-run the Turkish lines.
I knew immediately that this was quite a famous set of stamps. The set had caused some consternation to the British army and to the civil service, because George V had been desperate to get hold of them.
King George V was utterly obsessed with stamps. According to courtiers, he seemed far more interested in stamps than in affairs of state. And he loved overprinted stamps. So these were obviously something that he coveted terribly.
In April 1916 the curator of the royal philatelic collection, Edward Bacon, read in a stamp magazine that some British stamps, intended for use by soldiers in Greece and Turkey, had been overprinted with the word 'Levant'.
He wrote to the the king's aide, Wigram, to ask him to write to the commander in chief at Salonica for a set of these stamps. Wigram also wrote to the private secretary to the Secretary of State for War to find out who was responsible. He also wrote to the army postal department, the private secretary to the secretary of state for the commonwealth and also to the army in East Africa asking for all war stamps. Murray, secretary of the Post Office also became embroiled in the hunt for these elusive stamps.
In May 1916 Harold Nicolson, who was working in Salonica was asked to get hold of any such stamps. Questions were asked of the navy to see if they had any of them. To placate the king, the senior naval officer who was in charge of a captured Turkish Island, produced some stamps with some overprints.
Eventually it was found that the Levant overprints were entirely unauthorised and should never have been produced. Sir Clive Wigram, writing to Lt General Mahon, confided: 'We all thought the issue of the stamps rather fishy and expect the young fellow who did it made a lot of money out of the dealers.' But to the end of his days, Bacon insisted that the stamps were valid for postage and should be included in the Royal Philatelic Collection.
In a similar incident, Bacon got into trouble for trying to get hold of a set of labels which were stamped by the Sinn Fein in Dublin, when they took over the main Post Office in 1916. It seems remarkable that at this time, when there was a full scale insurrection within the British Isles, that Bacon could only see this event as an opportunity for filling his master's stamp albums. Similarly it seems remarkable that, duringt the blood-letting at Galipolli, the King was prepared to bother senior army officials with requests for spurious stamps.
Anyway, it was nice to see the stamps. They may not be terribly impressive to look at, but they are an interesting historical relic and shed a lot of light on the lonely philatelic King.
Jack Shamash's book –
George V's Obsession – A King and his Stamps
– is available from Amazon to download on Kindle.
The greatest stamp collection in the world - more stories about the Royal collection