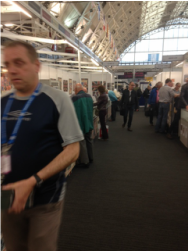 This week has seen Europhilex 2015 – the huge international stamp exhibition at the Business |Design Centre in Islington in London.

Among philatelists there have been mixed feelings about this show. It certainly has been extensively advertised and has brought visitors from all over Europe. One of my friends – a retired Austrian judge – came over specially to see it attended almost every day of the show.

However British collectors were less impressed. The trade stands were dominated by European dealers and auctioneers, with relatively expensive stock. If you were looking to unload £50,000 you could have talked to Spinks, David Feldman, Sandayre or any of the other big names. But if you wanted to spend a couple of hundred quid and get a few nice stamps for your collection, the choice was a bit limited.

And it was obvious that the organisers hadn't sold all the display space. Some of the stands were entirely empty and some were filled with photographic displays, as a way of filling up the surplus space.

One of the more interesting stands was run by the Royal Philatelic Society of London stand, where a friend of mine was advising people on the value of their collections. I thought this was a sensible way of attracting people, who might have collected as schoolchildren, back into the hobby.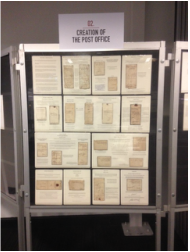 For anyone interested in postal history, there were vast display areas for the competition entries. There was probably too much on display. I went into one room and noticed that there was a security guard, so I realised there must be something valuable. Looking more closely I realised that one of the stands had the famous Swedish tre-skilling banco stamp, which has a value of three or four million pounds. It was only under a sheet of perspex. A determined gang would have been able to steal it, although it would be almost impossible to sell.
Another philatelic treasure on display was the printing block from which the Mauritius 2d Post Office – one of the most famous stamps ever produced - was printed.
There was quite a lot of wartime mail – much of it from the First World war. There was a particularly good exhibit on Gallipoli. There was also a lot of confederate post from the American civil war.
When I attended, there were relatively few people looking at the displays. Gathering a lot of expensive stamps in one place, doesn't seem to capture the imagination of the public. Stamp collectors and the philatelic industry need to find a new way to get people excited about stamps.
Oh, and I bought a couple of bits of pieces. I spent a tenner on some mint stamps from New South wales, and another fifteen pounds on George V controls. There was nothing else that I really wanted. The show gave me a pleasant couple of hours, but I'm not sure it lived up to the hype..
see also - John Dupont and Collecting Stamps in Jail
And read Jack Shamash's book - George V's Obsession - a King and his stamps