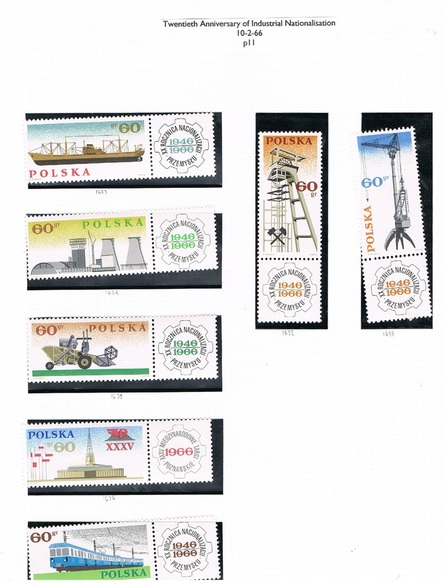 From just after the end of the war until around 1988, the whole of Eastern European formed a sort of communist bloc under Russian domination.

Most serious collectors are quite scathing about the stamps from this period. But personally, I love them – particularly those from the mid sixties.

There are a number of reasons why people are so snooty about them. Firstly they are large and pictorial – as opposed to the very restrained stamps that Britain, France or the USA was producing at the time. Secondly, because the governments of Eastern Europe wanted hard currency – ie US dollars – they produced a lot of stamps which were aimed at collectors. Many of these were cancelled to order and were never intended to go through the post.

So why do I love them? The stamps are big, but they are beautifully designed. The stamps illustrated from here are far lovelier than anything produced in the west at the time.

The subject matter is more down to earth. Whereas British stamps tended to celebrate old battles or obscure events – the Shakespear Festival or the centenary of Lister's discovery of antiseptic surgery – communist era stamps were more concerned to promote the dignity of labour and industrial power. There are loads of stamps with illustrations of buses and factories. And there are lots of stamps extolling the virtues of the Soviet space programme. They also have lots of stunning pictures of birds and dinosaurs – presumably because they were popular.

The picture shows one of my favourite sets. It is Polish and celebrates the twentieth anniversary of nationalisation It has wonderful designs of cranes and mining and ships.



My old catalogue, which is 20 years out of date, shows that this has a cat value of £1.10 – incredibly cheap. Obviously the price will have risen, but it's probably still very reasonable. The stamps are lovely, although don't expect to make any money out of them.