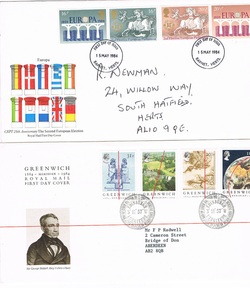 For the last fifty years, people have been buying first day covers (FDCs) in the expectation that they would rise in value. Often grandparents bought them for their grandchildren, believing that it would be a good investment.

I spend a lot of time in stamp shops and I can tell you that almost any first day cover produced by the Post Office since decimalisation in 1971 is worth very little. Stamp dealers get offered boxes and boxes of FDCs – often from people who collected them as children but have lost interest or who were bought them as a present. There may be one or two exceptions, but they will almost invariably not have kept their value.

The scan shows two FDCs. One of them has a set commemorating the centenary of the Greenwich Meridian in 1984. So just over 30 years ago, the buyer must have paid around £1 for the stamps and another 30p for the envelop and had it dispatched to his home. Looked at as an investment, the return is pretty dire. Stanley Gibbons catalogue prices the cover at £3.50, but this is a completely unrealistic valuation.

If I went into my local stamp shop, I could buy this cover for 30p. In fact, my local stamp shop is so keen to get rid of FDCs that if I offered to buy more than 100, I could buy similar assorted covers for around 20p each.

If I tried to sell a collection of covers, the dealer would heave a great sigh – because he is sick to death of these things – and would probably give me about 7p each for them – if I was lucky.

The other cover, which celebrates the European elections, is different. Because the address is written by hand, it is even less collectible. The original buyer would have paid £1 and has a cover, which is worth virtually nothing. If anyone tells you that FDCs are a good investment, they are talking nonsense.

On the other hand, they are pretty, they have a lot of nice stamps on them, and if you're interested n stamps, it's not a bad way to start a collection. But please don't buy them from the post office. Get them from a dealer, otherwise you're just throwing money away.

See also - Is it worth collecting First Day Covers?
Prestige Booklets - How collectible are they?