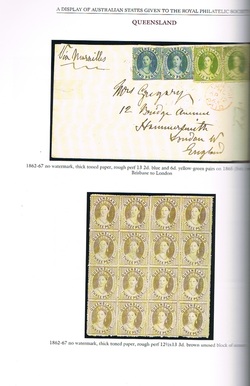 I'm always fascinated by the reasons why people collect stamps. Yesterday I went to see Joe Hackmey's collection of stamps from Australian states at the Royal Philatelic Society.
It's a very interesting collection. Before the Australian post service was united in 1913, it operated as a series of separate post offices run by the individual states – one in New South Wales, another in Queensland, others in South Australia, Western Australia, Victoria and Tasmania.
The stamps from the Australian states are very diverse. Some are very crude, many are quite attractive. Many of the early ones were printed in primitive conditions -in small sheds with wooden printing blocks.
Joe Hackmey, who owns the collection, in an interesting man. He seems to be in his mid-fifties – I couldn't find his age online. He is an Israeli. He is very clever – at one time he was a junior chess champion – and he is incredibly rich – at one time he was one of the biggest names in the Israeli insurance industry and he is now big in property. In 2009 the Sunday Times estimated his worth at £300million – although it is clear that he avoids publicity so his real worth could be considerably more than that.
This is all reflected in the collection I saw. There were some incredible early covers (envelops with stamps on them), with loads of very rare stamps. Some of the covers I reckon must be worth around £50,000. Funnily enough I recently bought a New South Wales stamp from around 1850 for just over £100. Mine was a very average used copy. He had vast quantities of this particular stamp, some on envelop, many in large blocks. They were all in fabulous condition. He had obviously spent serious money on them.
And it wasn't just New South Wales. His collection from the other states was also stunning. I would be surprised if there wasn't a million quid's worth of stamps in the RPSL's meeting room. And obviously, not all his stamps were on display. He's got plenty more at home.
The stamps on display were very carefully laid out and described, by Hackmey and a professional assistant. There were captions under each group of stamps. Many would say things such as: 'This is the largest block in private hands', or 'This is the only known example'. The captions would often point out that examples of similar stamps, held by the Royal Philatelic Collection, were of poorer quality than the ones owned by Hackmey.
And when he was introduced formally to the audience, the speaker – Francis Kiddle - made it clear that this was only a tiny part of his philatelic treasure. 'He has 17 collections,' we were told, 'This is only one of them.' Kiddle, of course, didn't mention that stamp collecting is only one of the things that Hackmey spends his money on - he is also famous for his collection of art.
What was particularly illuminating was that we learnt something about his motivation and method. Kiddle explained: 'He starts to buy a particular field, but he doesn't tell anybody, because he knows it will take 25 years to build up a collection in a particular area.' Collectors only started to realise that Hackmey was buying items, when they noticed that certain well-known stamps were simply not being shown at exhibition.
Kiddle also explained: 'He doesn't collect in an area where there are already two serious collectors, because he wants to be the best in whatever field he is involved in.'
Hackmey gave a short speech. He explained that had started collecting Australian states in 1991 when he bought a pair of one shilling stamps from South Australia. And there is a different style of collecting for each country. For example, Germans and French collectors are less interested in die proofs and essays – the trial printings which printers will prepare prior to an issue. Collectors of Turkish stamps are more interested in the postmarks than the stamps themselves. 'Each collection has a different philosophy.' He said that he had to go along with the prevailing philosophy because he wanted to win medals for his collections.
Incidentally, everyone was given a really nice catalogue of the exhibition, which had been prepared by the auctioneers Spink. Hackmey must have spent a lot of money on the booklet – although I suspect he can afford it.
So there are a number of things emerged from this. Firstly he plays a very long game – he reckons that 25 years is the time it takes to build up a collection. Secondly he wants to be the best in his field. He wants his collection to be even better than the Royal Philatelic Collection, which is usually seen as the finest in the world for commonwealth stamps. Thirdly he obviously craves recognition from other collectors. And fourthly he wants to make his mark on philatelic history by making sure that his collection is properly catalogued and that there is a permanent record of his collection. I'm not suggesting that there's anything wrong with what he's doing – far from it! - but it's interesting to see what makes rich people tick and what pushes their buttons.
The theme of why people collect is also explored in my book on George V -
George V's Obsession - a King and His Stamps
by Jack Shamash. It's available on Kindle
See also - John du Pont - the billionaire who collected stamps in prison