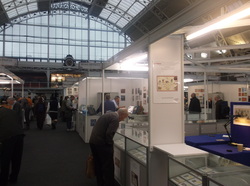 I went to stampex this week. If you like stamps, it's a sort of gathering of the clans. A huge number of dealers gather from all over the world. And there are always some interesting displays of stamps and postal history.

The event is held twice a year in the Business Design Centre in Islington. there seemed to be fewer dealers this year than last. And I couldn't see the sort of big ticket items that I used to see. Where were the blocks of 1935 Prussian blue silver jubilee stamps. Where were the large quantities of £5 oranges? a few years ago i remember that one stand had lots of items in excess of £10,000. I saw one rather nice block of £1 seahorses (George V stamps) for £80,000/. I couldn't see anything quite as expensive this year.

Another development is that people are very keen to get rid of modern mint stamps. they are now selling decimal presentation packs at below face value. One dealer was selling presentation packs with a face value of £250 for £195. They are obviously keen to dump these things before the Post Office invalidates the stamps for postage, as it would love to do.

It's still an interesting exhibition. If you've got time, you can talk to any number of dealers. And you get a feel for how philately is developing. In the event, I spent relatively little money (around £50). And there's a nice cafe on the first floor of the centre, where you can drink a coffee and leaf through the large number of auction catalogues that people hand you.