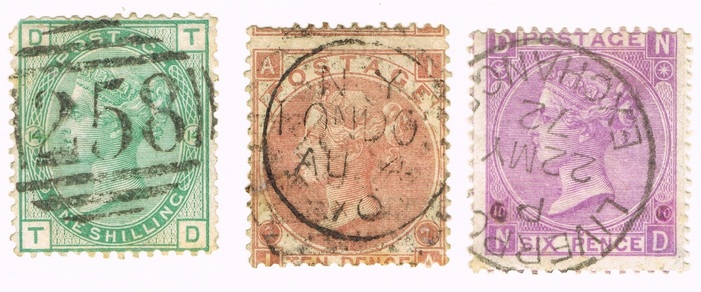 About five years ago I walked into a stamp shop in Brighton and spent £150 on an old album containing lots of surface printed Victorian stamps. When I started sorting them out, I found three stamps that seemed to have an incredibly high catalogue value. There was a one Shilling SG 150 plate 14 stamp, which has a catalogue value of around £40,000, a ten pence stamp plate 2 from 1867 which has a catalogue value of £15,000 and an an 1869 six pence stamp (plate 10) which has a catalogue value of £35,000. I've scanned them above, and used the highest possible resolution so you can see the detail. In particular they all have plate numers printed on them. On the shilling stamp, this is roughly half way up the frame. And on the other two, the plate number is in the bottom corner.

Now either I'd struck philatelic gold or I'd acquired a handful of forgeries. Generally I assume that if something appears too good to be true, then it's too good to be true. So I left them for a few years before examining them closely. It was obvious to me that the number ten in the corner of the violet stamp was a bit funny. It appeared to be superimposed on a slightly darker disc of purple. So I felt that this had probably been tampered with.

I took the other two to my local, friendly stamp dealer - Ron at the Enfield Philatelic Centre. He looked at them under a glass and told me that they had both been altered. If I look carefully at the middle stamp, I can see that the number two does indeed seem to be slightly flattened at the top. It just doesn't look right.

But the third stamp - the one shilling - looks OK to me. I've checked out similar stamps online and I can't see any real problem. Ron is very knowledgeable, but it is conceivable that he might be wrong.

I'm a member of the Royal Philatelic Society, and they have a committee of experts who have all the latest equipment and years of expertise. They can judge these things. Because I'm a member I can get a couple of stamps checked out free every year - I have to pay a handling charge of about £10 per stamp. so I think I might just put it in for checking. If it's no good, I've lost £10. If it's good then the value of my stamp collection will have multiplied overnight.